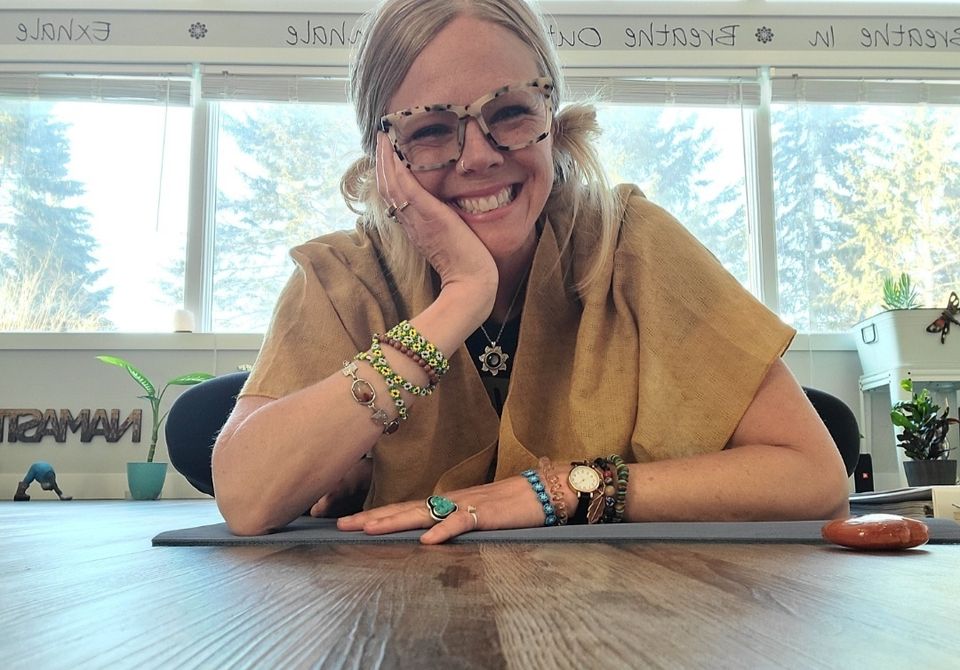 Your soul was guided here on purpose…I'm so glad!
Let me introduce myself…My name is Heather.  I am a wife, mom of 3, tree hugger (One time I came away covered in sap, after hugging a tree, while practicing yoga outside with a group of veterans…that was a good belly laugh moment!), belly laugher, just doing my best to live life simply and to my fullest potential.
Crash
In 2019, on a bone chilling winter night, in Minnesota, I was at my lowest of lows.
I was desperate for relief from chronic pain, insomnia and so much more wondering how I had gotten to this point.
I felt stuck, hopeless, scared and lost.
While my family slept, I was biting a pillow as I screamed so that I wouldn't scare my children and husband.
I prayed and I cried.

Nature Calls
That's when something nudged me…you will heal in nature.
How was I going to heal in nature when the ground was frozen, it was 40 degrees below zero and 2:00 in the morning?
I needed relief now!
I decided that if I couldn't get in nature that I would create the feeling of nature inside, in my bedroom.
I grabbed 2 books that I had recently purchased at the Christine Center, a Spiritual Retreat Center in Wisconsin…Ikigai, The Japanese Secret to a Long and Happy Life, by Hector Garcia and Francesc Miralles and Shinrin Yoku:  The Japanese Art of Forest Bathing, by Yoshifumi Miyazaki.
I allowed the beautiful pictures of the natural elements, inspirational quotes and wisdom on healing and living a happy life in connection with nature to soak in.
This was a turning point for me amidst a desperate search for answers to my declining health situation.  
Even the Healthy Crash
I was a yoga instructor, personal trainer and promoter of all things health and wellness AND I was at rock bottom.
Turns out that even the "healthiest" people can crash, hard.
I read the books and started to bring more natural elements into my living space to create the feeling of being in nature.
Rocks, water features, house plants, oils that smelled like pine trees.
In the months ahead, amidst doctor appointments, sleepless nights, chronic pain and searching, nature gave me HOPE.
More of my story is described in my blog posts if you would like to visit them there.

Hope  
I choose HOPE daily and practice tools and habits to create more JOY and INSPIRATION in my life.
I am grateful and proud to say that today...I feel fantastic and radiant!
I still have aches and pains, but I know what to do to help and prevent them as much as possible.
My deeper connection with nature was my guide and anchor during this time and still is.  
Daily solo trips in nature, gratitude as I look to the sky in awe, hugging trees as they hold space and show us how to be rooted, speaking with the creatures we share the Earth with, grounding my body daily in the Earth's precious energy, pausing to journal the wisdom I was gathering…this is my life medicine and inspiration.  
Life Stuff
In human terms, I experienced a health crash/spiritual awakening that combined a seizure, fascial restrictions after surgeries, hormonal imbalances beginning with early menopause to today, degenerative arthritis in the neck, weight loss and gain, debilitating reactions to medication, brain damage, daily migraines, miscarriages, pregnancies, toxin overload and daily chronic pain.
Much of this was me not listening to the signs, even though I was encouraging others to.

Today
Today I listen, although I am still learning daily of course!  My physical practice has changed through the different seasons, sometimes with me kicking and screaming that I wanted things to stay the same.
Now I pay attention.
I stroll instead of power walk.
I practice flowy movements versus always looking for a "work out".
I feel amazing when I practice the unique combination I have created for myself and others.  
Nature as Medicine
Nature is now at the heart of everything I teach, write about, coach and share.
Nature saved me.
She teaches me and provides me daily wisdom, which I love to share about in insightful and fun ways in social media posts, my blog and in my first self-published book Sedona Spirit Journey.
My passion is teaching and connecting with others and offering what I've learned.
We are a part of nature.
You already hold the ability to live, love, heal and enjoy your life, it's just that sometimes life stuff gets in the way.
It's the uncovering and lovingly peeling away of the layers in order to nurture your connection and nourish your body and mind in simple ways that guides us back to her.
Simple, daily practices lead to hope and radiance!  I am proof of that.
Teaching Yoga
I have enjoyed teaching for 20 plus years.  Wow, where has the time gone?
Beginning with a self-taught practice in searching for relief from neck back pain after my first child was born, I eventually completed my 200 hour and 500 hour Yoga Teacher Trainings with Mary Beth Nehl at the Yoga Loft in Willmar, MN.
I've since gone through different trainings to add to my practice and teaching.
This was a life changing experience that opened my eyes to the world of yoga beyond the mat!
My own practice and teaching style combines different styles of Yoga, meditation, shaking, tapping and Qigong…spirit and breath led.
Let's Connect
I would love to share what I've learned through these practices to help you connect deeper with nature, the universe and your spirit!
We were given this life to enjoy!
Let's do that as we relax together, breathe, dive deep and connect in all these practices have to offer.
I am excited to connect with you and for you embarking on this journey to your most passionate and inspired life!
Peace & Love,
Heather