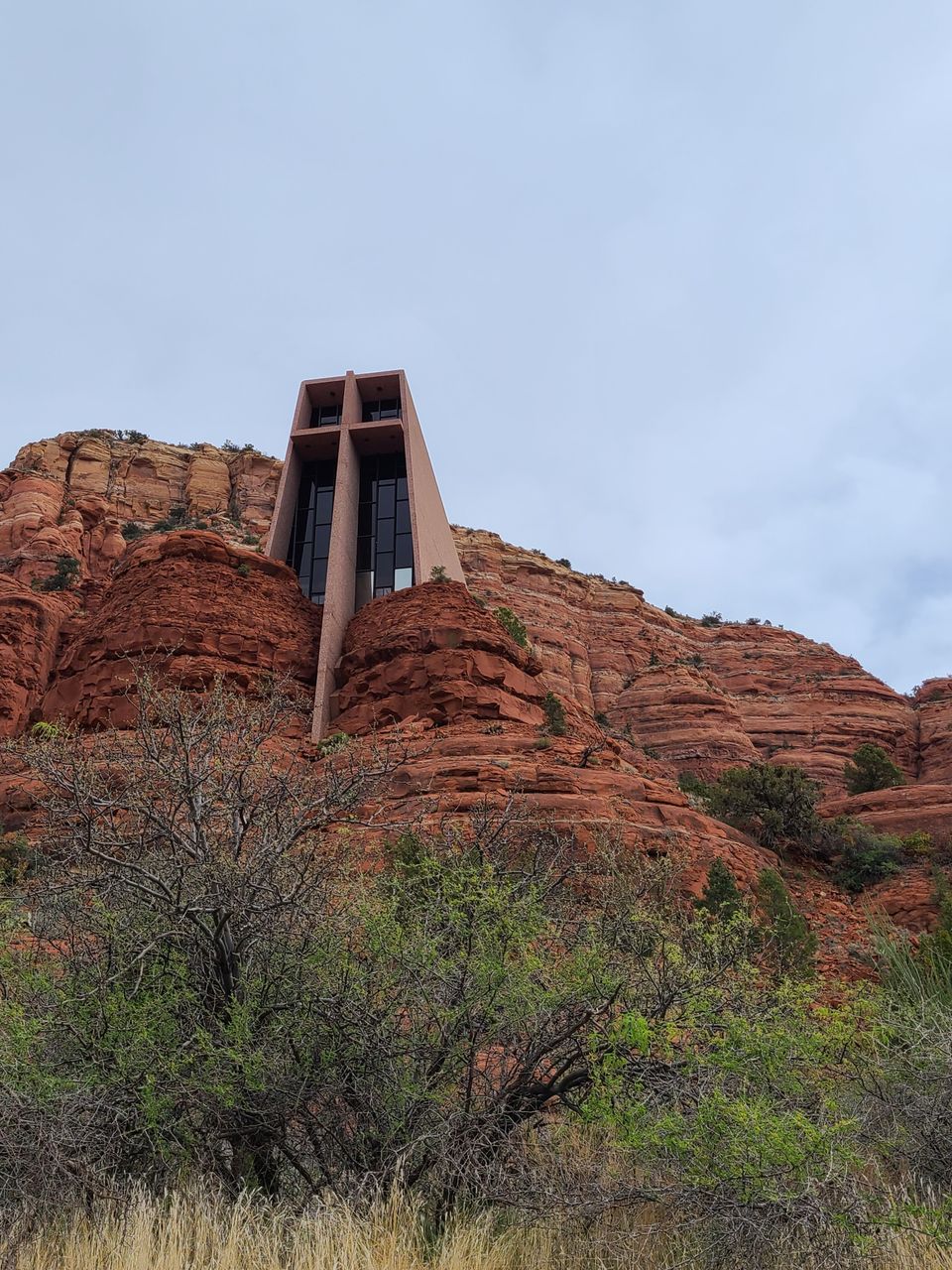 Sedona Spirit Journey: Spirit
BY Heather Zollman
October 14, 2021
April 27, 2021
We woke up, had a great meal in our little home for the week and headed towards our first stop…Chapel of the Holy Cross. 
In my research, I saw that parking was scarce and to get a spot, it is best to arrive early. 
That we did. 
Like a half hour before the gates even opened. 
I am so grateful we did! As we waited, I sat at the base of the hill. 
Again, the energy felt there…PEACE. 
I find that when I really want to experience a place, the practice of closing the eyes and being, simply being allows me to feel the energy and awaken the senses.  
As soon as the gates to the breathtaking chapel built into the rock opened, people started flooding in.  
As we walked up the path to the entrance, I felt an excited nervousness.  I was completely intrigued. 
My friend, no words do this place justice, but I will do my best to describe what it feels like. 
As you enter, you hear the sounds of angelic chanting that seem to surround your being.
Your eyes take in the beauty through the many windows overlooking nature. 
The statue of Jesus on the cross is majestic. 
He seems to be staring into your soul. 
The red candles lit by visitors add the fire element and…PEACE. 
I was in awe. 
We sat in a pew to be in the energy. 
There were many people sitting and standing in the tiny space. 
All of us strangers, yet all of us connected. 
No one spoke. 
Some cried. 
All were present and in awe of the spirit of God that filled the room. 
It was as if you could reach out and touch it.
Next, Cathedral Rock.
My journal entry about Cathedral Rock…
Cathedral Rock was wonderful! 
I sat at the base next to a baby Juniper tree. 
The energy I felt was calm, buzzy, vibrant. 
The vortexes are so powerful! 
At both places on this day, I thanked the Universe for taking away the pain in my feet and body. 
With that gone, I feel like I can do things to create vibrant, radiant, joyful energy! 
What I felt like there was just that. 
Foot pain lifted. 
Calm, present. 
I truly feel like there are spirits, energies and angels at work here.
It doesn't take a trip to be able to feel that. 
This place does bring focus, vision, peace. 
I plan on bringing all of that home with us.
Leading up to the trip, I was nervous about the pain in my body. 
Especially my feet. 
My digestion was not good and my feet hurt so bad, I found it almost unbearable to walk some days. 
Walking in nature is my favorite thing! 
Also, when I travel, my digestion goes haywire. 
Even with practicing the tools that I know for this, I still end up in pain. 
At the time we were in Sedona, my hormones were also whacked. 
Menopausal ladies…you get me right? 
I was 25 pounds heavier on our trip than I am at the time I am writing this. 
I did not feel my best physically. 
I was having the most wonderful time! 
AND I felt like my physical body was trying to figure a lot of things out.
Next on our journey…our personal session with Rahelio at his home. 
We pulled up to a tiny house, tucked in a neighborhood in the heart of Sedona. 
We were both so excited and did not know what in the heck we were in for! 
I had all kinds of questions planned for him. 
A woman met us at the door and led us to the back of the house, past a sweat lodge in the backyard to a separate room where Rahelio does his sessions. 
I am not going to share all the details. 
I will say this…He did a clearing on both of us separately, and it was beautiful! 
We felt so much lighter than when we arrived! 
Bryan told him about his vision at Slide Rock State Park and he interpreted it. 
He worked on Bryans' fear of heights. 
During my clearing I cried. 
A cleansing cry that felt fantastic! 
I was also super pumped that he showed us a few practices to do to calm down anxiety, ground and work with energy. 
They were all things I already knew and taught to others! 
Very similar to the mix of qigong, kundalini and yoga that I practice and teach. 
That was refreshing. 
I find it fabulous and intriguing that many healing practices overlap and seem so similar, maybe just with different names. 
Also, I asked NONE of the questions I had prepared
So, this day was filled with…SPIRIT. 
Our own spirits.  God. 
The connection with all human and animal spirits. 
The Universe. 
It is truly inspiring when you take the time to pause, be and really feel it all!
The next day would be our last to spend in Sedona. 
I had no idea that my biggest aha moment would be realized and felt while by myself, laying in the sun with a tiny book, journal and pen. 
Tomorrow I would…SHED.